Customer discovery is the process of speaking to people to understand their problems so that you can uncover opportunities to improve your product.
The term traces its roots back to Steve Blank and Bob Dorf. They wrote a book called 'The four steps to the epiphany' that explains how to apply the scientific method to building startups.
Customer discovery was the first of the four steps. The idea was to stop thinking about your product and "get out of the building" so that you can speak to people about their problems instead. The goal is to avoid spending loads of time building things nobody wants.
Traditionally, product work has been confused with pumping out new features. New features are fantastic but only if they're useful.
Useful is relative.
It relies on a shared understanding of who you're building the features for and what they're trying to do with them. How're you supposed to build something useful when you don't know what the problems are?
Good discovery work answers these kinds of questions and helps teams understand what better means to the people who use their product.
When a team doesn't share a clear understanding of the problems everyone can feel stuck. You begin wasting time building things no one uses. There's no conviction on what to build next, and you're constantly looking to competitors for ideas to steal.
Once people start to understand what the problems are, building useful stuff is easy. You stop worrying about whether you're releasing features, and you're more interested in whether or not they're solving problems.
Customer discovery questions
The only scripted question I ask is:
Tell me about why you started using [our product]?
I do customer discovery work in the context of existing products and I only interviewing existing users.
Traditionally, discovery work is done before you build a product. There's lots of great writing out there about that sort of discovery work. I'm going to talk about discovery in the context of improving retention and making an existing product better.
The goal of an interview is to understand the problems people are trying to solve with your product, so that you uncover opportunities to make it better as solving those problems.
The point of this opening question is to elicit a story. You want people to paint the picture of where they were before they started using your product and where they were hoping your product would get them.
If you get a one-sentence response ("I downloaded you app to get fit") then you can follow the question with
What's the hardest part about [X]?
X being the core problem your product helps people solve.
Most of the time you can recycle a one sentence response into the follow-up, "What's the hardest part about getting fit?"
I'm not big on using scripts. They can be helpful. I usually have a list of fallback questions if the conversation stalls. People will only tell you a story if you demonstrate that you are genuinely interested in listening to what they have to say. Running through a list of questions doesn't invite someone to share a story with you.
If you're just after a bullet points to a list of question then you should send out a survey instead. Much less hassle on both ends.
Rather than relying on a script you're listening for emotional highs and lows in the conversation. When you see someone is talking about something they care about, redirect the conversation with prompts like:
Tell me more about that.
Please say more.
And what else?
What happened after that?
I know I said that I am not big on scripts but there is one question that I like to end every conversation with:
Is there anything else I should have asked?
This is a great question because sometimes people understand what you are trying to do but you haven't given them an opening to say what they want to say. Other times you can sense that the conversation isn't over yet and it's because they have questions. Worst case scenario, they just say no.
How to do an interview
I can go long stretches without doing interviews and when I jump back into them I'm always a little rusty. Now I have a little game that I play that helps me hit the ground running. I score each conversation with a simple point system.
2 negative points and 2 plus points. Easy to remember while I'm talking. Then I score the recording afterward to see if I'm improving between interviews.

-1 You pitch, you lose.
If you try and push a feature or start talking about your product then the conversation becomes a sales call and stops being an interview.
An interview is about the customer, not your product.
The moment you start pitching a feature, people will gravitate towards telling you what you want to hear. If you have nothing to sell, people don't know what you want to hear, so they can't lie to you.
-1 Don't Interrupt People
You can't interrupt people. Ever.
This is where I always lose the most points.
When someone stops talking, the best thing to do is count to five in your head. I've never made it past 3. The idea is to create a mildly uncomfortable vacuum that elicits valuable follow-up information.
Conversely, when people are talking and you have an important question. Make a note of it so that you remember to come back to it later.
+1 Talk Specifics
Hypotheticals are toxic shiny objects. They sound great and mean nothing. People are terrible at predicting their own behaviour. Instead, you can only talk about specifics that have happened in the past. It's much harder for people to lie about specifics.
When you start talking about what someone might do, people want to tell you the *correct* answer. Regardless of how true it is. It's not that people want to lie to you, it's just what we do in polite conversation. It's the path of least resistance.
Every time you shut down a vague, hypothetical statement and redirect it to something specific in the past you get a point.
+1 Summarise And Then Ask
When you can't interrupt people, it can be hard to get a wandering conversation back on track.
One way to do this is to summarise the important bits of what people said when they stop talking. This re-aligns the conversation to what's important to you. It also helps them reflect on what they said, and clarifies any misunderstandings.

Every time you summarise what someone says before proceeding, you get a point.
That's it.
Finding people to speak to
You don't need to speak to lots of people, nor do you need to speak to them all at once. Two or three people a week is more than enough to start with.
Recent customer support wins are always a good place to start. You don't need a complicated reason to reach out to people that have just had a great experience with customer support. Explain that you want to improve the product and you'd like to better understand how they use it. Clarifying that it will be a short call always helps.
In addition to following up on past interactions, you can begin closing out successful interactions by asking if they'd be open to schedule a quick conversation with the product team to improve the product.
The success rate on converting support calls is usually pretty high. The problem is that you don't control who gets in touch or how often. Eventually, you will need to be able to pick who and you talk to people.
When I don't have a specific question and I'm just listening for opportunities to improve the product then I look at last month's activity and plot out the number of times each person performed our core action. You'll end up with a bar chart of how many people performed how many actions.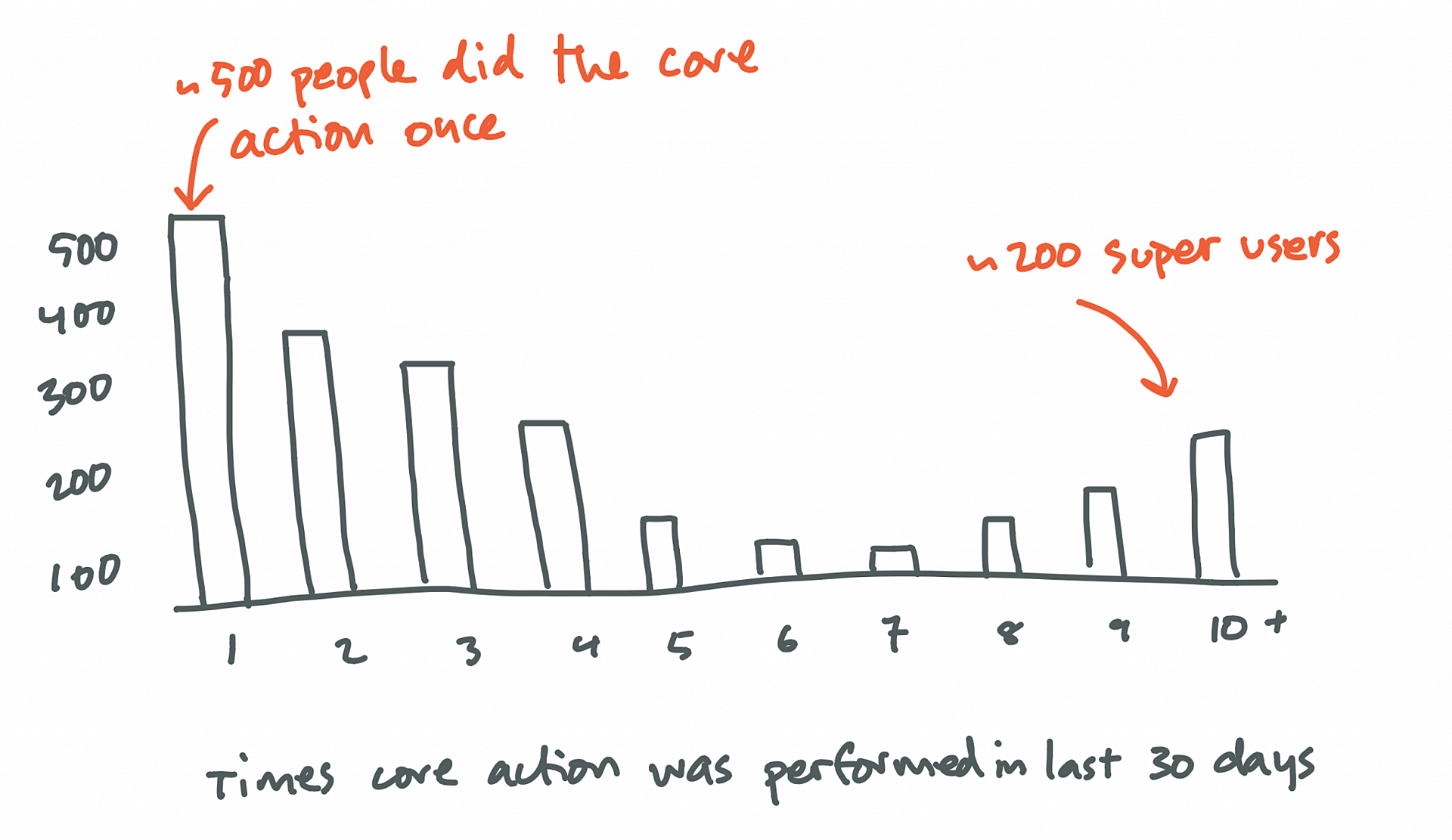 Those who did it once or twice will be on one end, your superusers live on the other end. Filter out anyone who signed up less than a month ago and then reach out to 10 or 20 people in the top and bottom 5%.
What I'm trying to understand is the differences in the way that people on either end of this spectrum think about and use the product. Speaking to 5-6 people from each group is usually enough to get a sense of the key points of contrast in the spectrum of usage on your product. 
One final approach I've had success with is doing in-product surveys. NPS scores and those little satisfaction ratings that show up in the corner of people's screens. You can end a quick survey like this with a request to schedule a call.
Relevant Links